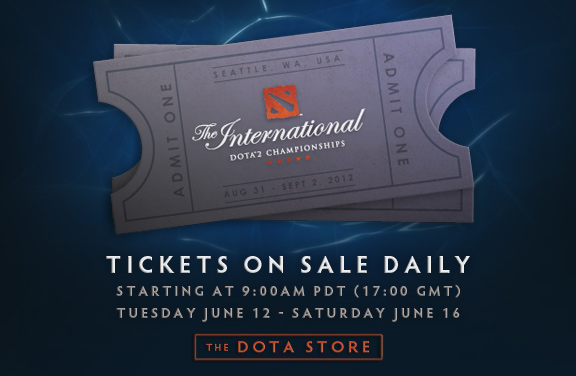 La primera remesa de entradas para The International saldrá a la venta el martes 12 de Junio a partir de las 9 AM PDT/17:00 GMT. Se venderá remesas adicionales cada día a la misma hora hasta el sábado 16.
Las entradas estarán disponibles a través de la tienda de Dota 2 a $49.99 y estimamos que éstas serán vendidas rápidamente. Cada entrada te dará acceso durante los tres días que dura The International. Las entradas en sí no tienen valor alguno a menos que asistas al evento.
Tras la compra, podrás encontrar la entrada en tu inventario de Dota 2 y podrás comerciar con ella como con cualquier otro objeto de Dota 2. Al usar el objeto será consumido y tu cuenta de Steam será marcada como que asiste al evento. Tu confirmación y el pase de acceso para acceder al evento te serán enviados por email más tarde por lo que procura que tu información de contacto de Steam sea correcta.
Habrá un número limitado de asientos para personas con pases PAX Prime pero son por orden de llegada.