La actualización de esta semana continúa con los preparativos para The International con más cambios en nuestros sistemas de Espectador y Torneo.
En primer lugar, tenemos una vista de Espectador totalmente nueva en la Selección de Héroes. Además de quedar mucho mejor, permite que los espectadores examinen a los héroes y sus habilidades a medida que los van seleccionando.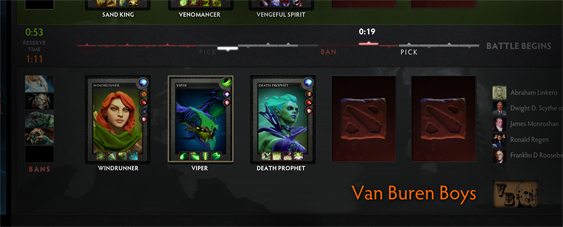 También verás que el panel de Torneo registra qué partidos has visto y añade la capacidad de que los puntúes. Puedes puntuarlos desde un partido en directo o desde el panel de detalles cuando inspecciones un partido reciente.

The Defense de Joindota también avanza hacia las finales, y en previsión vamos a activar un Finde Gratuito para ese Torneo. Todos los jugadores de Dota 2 podrán ver partidos en directo y cualquier repetición desdeesta noche hasta el lunes. Justo a tiempo para ver a Mouz, CLG, Na'Vi y POTM Bottom en acción.
El listado de cambios está disponible aquí.