La actualización de hoy lleva al Despertar Dire a su fin, lo que significa que es luna llena y algo tendrá que nacer. Si has estado esperando con impaciencia este día para ver qué nueva criatura verá la luz, hoy podrás quedar satisfecho. ¿Quién sabe qué está por venir?
Esta semana tenemos un nuevo héroe que es una adorable bola de garras y dientes – ¡Slark! Pásatelo en grande atacando a tus enemigos para luego desaparecer en una nube de humo, y todo mientras cacareas como un mago demente.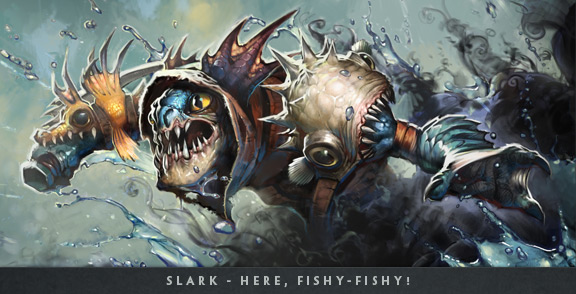 Hemos creado algunas mejoras para la interfaz de usuario. Ahora tenemos un chat de rueda para que puedas comunicar a tus compañeros de equipo lo bien que lo están haciendo, y por si fuera poco, cualquier mensaje enviado desde este chat será traducido por un mago al idioma de cada jugador.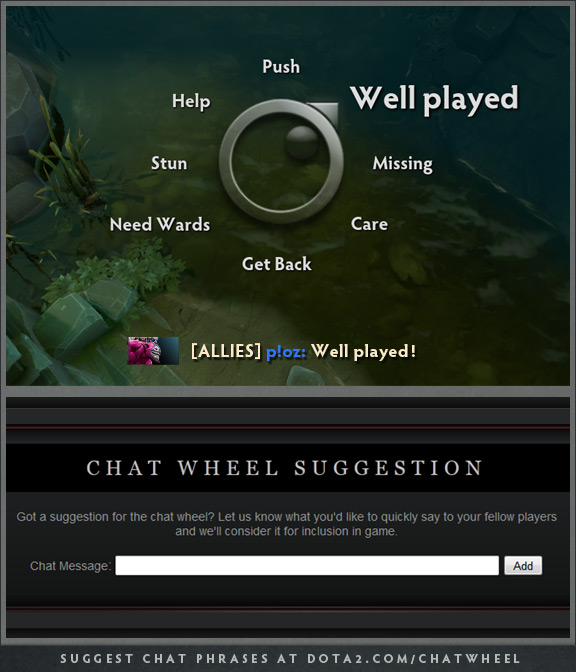 Si tienes alguna sugerencia para que añadamos alguna frase más al chat de rueda no dudes en comunicárnosla aquí. Iremos incorporando el resultado de vuestras sugerencias en futuras actualizaciones. Además, si reinicias tu configuración del teclado podrás encontrar ahora algunas plantillas por defecto bastante útiles que podrás elegir desde la pantalla de jugador.
Nuestro departamento filmográfico ha recopilado escenas de The International 2012 que puedes ver aquí. Aún están muy desempeñando un trabajo muy duro en el documental que habla sobre The International 2011, Free to Play.
Y no quisiéramos terminar sin comentaros que como estamos recibiendo unos trabajos muy buenos del concurso Polycount, hemos decidido ampliar el plazo dos semanas más. La nueva fecha límite será por tanto el próximo 3 de Diciembre. ¡Pásate por el workshop para echar un ojo al encomiable trabajo que están llevando a cabo!
Y por si te quedas con ganas de más, aquí podrás ver algunas notas de la actualización.