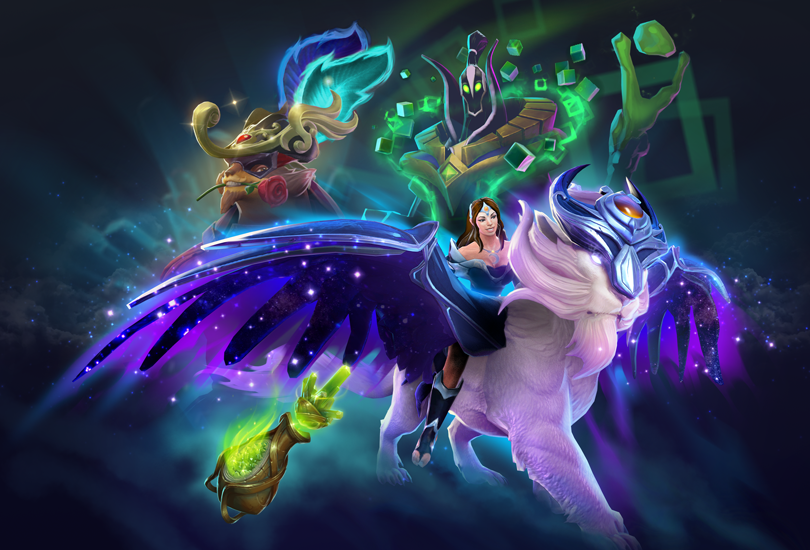 La Garrafa del Tesoro de The International 2018 ya está disponible, incluye nuevos artículos para Huskar, Ogre Magi, Pangolier, Venomancer, Rubick, Disruptor, Silencer, y Storm Spirit; también incluye una nueva versión del modelo de Huskar el indomable para celebrar la llegada de su nuevo Tesoro de Aspecto Inmortal.
Cada Tesoro ofrece la oportunidad de recibir un objeto raro para Windranger, una versión dorada muy rara de un objeto de Storm Spirit y una Montura extremadamente rara para Mirana.
Elige apoyar a tu comentarista favorito en el evento de este año comprando versiones autografiadas de la Garrafa del Tesoro. Solo selecciona al comentarista que desees de la lista desplegable del menú de la tienda para inscribir su autógrafo en el contenido.
Objetos aleatorios para asistentes
Este año de nuevo ofreceremos la oportunidad de obtener objetos aleatorios para los miembros de la audiencia en el Rogers Arena. En la primera sangre de cada partida, aparecerá un número limitado de tesoros exclusivos para asistentes, cada uno contendrá versiones únicas de objetos seleccionados del tesoro de Aspecto Inmortal de este año y estará inscrito con gemas de seguimiento de la primera sangre. Para optar a ello, debes tener un pase vinculado a tu cuenta de Steam y estar en el pabellón cuando se derrame la primera sangre. Esperamos verte en The International.
Evento principal de The International
Después de cuatro días de acción intensa, la Fase de grupos de The Internacional 2018 ha concluido, resultando en la eliminación de Invictus Gaming y paiN Gaming.
Team Liquid, Evil Geniuses, PSG.LGD, OG, VGJ.Storm, Virtus.pro, Team Secret y OpTic Gaming han avanzado al grupo superior del evento principal.
Fnatic, VGJ.Thunder, Mineski, Winstrike Team, Newbee, TNC Predator, Team Serenity y Vici Gaming se enfrentan a una primera ronda de partidas en enfrentamientos al mejor de uno en el grupo inferior, el lunes 20 de agosto en el Rogers Arena.
La retransmisión comienza a las 10:00 a.m. (hora del Pacífico). Visita el sitio web de The Internacional para más detalles sobre cómo puedes ver las partidas.