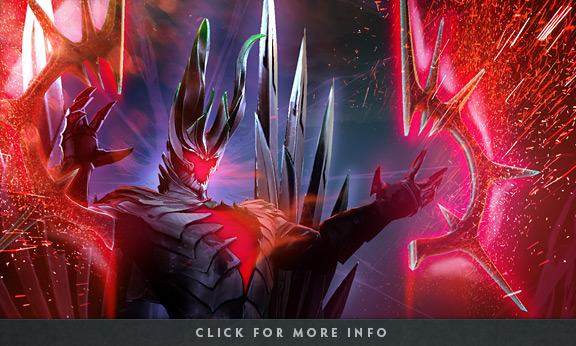 At last, true darkness is unleashed! Terrorblade's Fractal Horns of Inner Abysm are now available for purchase. Equip this Arcana and he'll have new animations, new spell effects and icons, new death and respawn music, an altered voice, he'll be able to change the color of his abilities and weapons with gems, and more! If you buy the Fractal Horns during the New Bloom Festival, it will come with an 'Exalted' quality.
Meanwhile, as heroes return to their day-to-day grudges and prepare for the Year Beast's return, a number of changes are being made. First, we've significantly increased the number of Flamesalt Ingots you'll receive after a match, and now you'll find more Crimson Parcels as well. We've also boosted how many Ingots you'll find in those Parcels.
Additionally, we're changing how Year Beast teams are formed in order to make sure you'll be matched up with players investing the same number of Ingots as you. When the Year Beast returns on Friday, you'll choose from one of several Ingot Tiers. When the match begins, a set amount of Ingots from each player will be collected based on which Tier was selected, ensuring that all players have the same amount of gold to spend on the fight. Jade Token rewards will differ based on which Tier you're playing.
Speaking of rewards, there will be times when we feel it's necessary to update the Year Beast battle in the middle of a cycle. When we do so, high scoring players from matches both before and after those changes will be counted and rewarded separately, so you don't need to worry about competing with players who played a significantly different version of the fight than you.
And for those of you not competing for high damage, but still eager to get your hands on Redhoof, you now have a chance to obtain the Redhoof courier by redeeming Jade Tokens to open a Bloom Harvest or Bloom Bounty.
Prepare yourself: the Year Beast returns on Friday!